Borough of
New Bethlehem
210 Lafayette Street
New Bethlehem, PA. 16242
Phone: (814) 275-2003
Fax: (814) 275-4269
[email protected]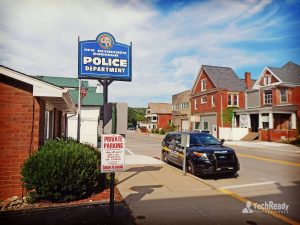 FOR IMMEDIATE RELEASE:
New Bethlehem Borough
December 25, 2018
Part-time Employment
Application:  NB Boro Employment Application
PUBLIC WORKS
New Bethlehem Borough seeks a part-time Public Works employee to work Wednesdays 6 to 2 PM for trash collection, with possibility of additional summer work. Applications are available through the link above, from the Borough Secretary at 309 Broad Street, by emailing [email protected], or calling 814-275-2003. Send job application, resume and letter of interest to New Bethlehem Borough Public Works Department, 210 Lafayette St., New Bethlehem, PA 16242.
BOROUGH POLICE OFFICER (PART-TIME)
REQUIREMENTS: Act 120 certification, CPR, AED, and First Responder certifications. Ability to work on-call, weekends, evenings, and rotating shifts;
Valid Pennsylvania Driver's License.
Previous one-year law enforcement experience preferred, but not required
Psychological, Physical, Pre-employment and ongoing Drug, Oral and Written tests.
NATURE OF POSITION: This position requires a working knowledge of Pennsylvania law, a strong interpersonal communications aptitude. The candidate must possess: ability to work independently in prioritizing work and emergency calls, keep accurate records, ability to problem solve constructively; understand and follow directions as well as give directions; strong attention to detail, ability to work with a diverse population; and initiative for self-directed accomplishment is essential.
DUTIES:
Uphold the Constitution and laws of the United States of America, the Constitution and laws of the Commonwealth of Pennsylvania.
Have the responsibility to obey and carry out the orders of the Chief of Police and all other Supervisory Officers, thoroughly, cheerfully, and promptly, whether such orders are verbal or written. Learn and follow Department's Standard Operating Procedures.
Maintain peace, order, and morality, protect persons and property.
Investigate all crime, protect crime scenes, collect and preserve evidence, investigate accidents, unlawful acts, make legal arrests of offenders, and serve warrants and subpoenas when required.
Prepare required concise reports daily, prepare cases for court, attend hearings when scheduled, and testify before courts and other legally empowered bodies when required.
Review reports of investigations and recommend further action as necessary.
Respond to all calls, incidents, and complaints reported to them in any matter, or discovered by them as directed by Rules and Procedures.
Send job application, resume and letter of interest to New Bethlehem Borough Police Department, 220 Broad Street, New Bethlehem, PA 16242.
For questions or more info, please call 814.275.1180 or visit: NewBethlehemBoro.com/contact.