Borough of
New Bethlehem
210 Lafayette Street
New Bethlehem, PA. 16242
Phone: (814) 275-2003
Fax: (814) 275-4269
[email protected]
.
Community Information Guide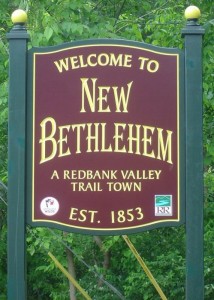 New Bethlehem remains a charming community with grand old single family homes and hometown values nestled among tree-covered hills along the Redbank Creek in Southern Clarion County.
New Bethlehem has a central tri-county location, about 20 miles from each of the County Courthouses and hospitals of Clarion, Jefferson and Armstrong Counties and is only about 60 miles from Pittsburgh.
The downtown area lies at the intersection of State Routes 66 and 28 with easy access to Interstate 80.
Come to visit, you just may want to stay.  ?
Below are links to other helpful websites when researching or planning on visiting the area:
Redbank Valley School District
Redbank Valley Community Center
Click on the title below to see more information.
emergency numbers

New Bethlehem Police Department: (814) 275-1180
New Bethlehem Fire Company: (814) 275-3000
Armstong County Memorial Hospital: (724) 543-8500
Brookville Hospital: (814) 849-2312
Clarion Hospital: (814) 226-9500
Armstrong County Memorial Hospital:  724-543-8500
Pennsylvania State Police: (814) 226-1710
American Red Cross: (814) 226-7040
Salvation Army: (724) 543-6662
Animal Protection: (814) 226-9192
Child Abuse: 911 or Hotline: 1-800-932-0313
Consumer Protection Hotline: 1-800-431-2555

 other important numbers


Clarion County Airport:(814) 226-9993
Clarion County Courthouse: (814) 226-4000
Clarion District Justice Office: (814) 226-9355
Hawthorn Borough Office: (814) 365-5555
New Bethlehem Borough Office: (814) 275-2003
New Bethlehem District Judge: (814) 275-2322
New Bethlehem Borough Tax Collector: (814) 275-4475
Redbank Valley Chamber of Commerce: (814) 275-3929
Redbank Valley Municipal Authority: (814) 275-2585
Redbank Valley Municipal Park: (814) 365-5924
Redbank Valley Public Library: (814) 275-2870
South Bethlehem Borough Office: (814) 275-1219
Clarion County Fair 814-275-5179
New Bethlehem Post Office 814-275-3303
Are you a business looking for a great location on a busy highway? New Bethlehem lies at the intersection of Routes 66 and 28, only 16-18 miles from Interstate 80. We have many low-cost available properties of varied sizes that might suit your business. Come for a visit, you'll want to stay.
Click on the title below to see more information.
Armstrong Cable Comcast
Dish Network
Milestone Communications
Verizon
Clarion River Gas Co.
Columbia Gas
Equitable Gas Co.
Kriebel Wells
National Fuel Gas
People's Natural Gas
TW Phillips Gas Co.
UGI / Central Penn Gas
AT&T
Comcast
Venus Telephone Co.
Verizon
Windstream (Alltel) Communications
Advanced Disposal
Haulitt Disposal
Hunsberger Sanitation
Kunselman Hauling
New Bethlehem Borough
Shirey Sanitation
Tri-County Industries, Inc.
Williams Sanitation Services, Inc.
Aqua PA, Marienville
Bill's Service Company
(Portable Toilet Rentals)
Clarion County Sewage Association
Clarion Township General Authority
Corner Water Supply
Farmington Twp. Supervisors
Fryburg Water Company
Hartzell Water Conditioning
Hawthorn Area Water Authority
Jenks Township, Marienville
Knox Borough Sewage
Knox Water Works
Mahoning Township Water Authority
Redbank Valley Municipal Authority
Pennsylvania-American Water Co.

Paint / Elk Sewer Authority
Redbank/Hawthorn Municipal Authority
Rimersburg Waterworks
Sligo Boro
Sligo Water Company
St. Petersburg Water Co.
Strattanville Municipal Authority
Washington Twp. Maintenance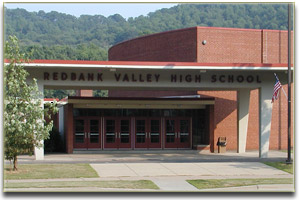 Redbank Valley School District provides the education services for the 165 square mile area of New Bethlehem and Hawthorn Boroughs, and the townships of Mahoning, Madison, Porter, and Redbank of both Clarion and Armstrong Counties.
The schools are well maintained, clean, and present a pleasant educational environment.
* New Bethlehem Elementary has been renamed Redbank Valley Primary School (grades k-2) and Hawthorn Elementary will now be named Redbank Valley Intermediate School (grades 3-6).
School menus and carious activities are announced in The Leader-Vindicator. Specific school information is found in the Student/Parent Handbook distributed by the schools. Weather related closings are announced by KDKA Tv2/Radio AM 1020, AM 1300, FM 92.7, FM 95.9 and FM 107.3 or on the Internet at www.Cancellations.com under Redbank.
| | | | | | | | | | | | | | |
| --- | --- | --- | --- | --- | --- | --- | --- | --- | --- | --- | --- | --- | --- |
| High School Office |   (814) 275-2424 | | | | | | | | | | |      Primary School |   (814) 275-2680 |
| Superintendent |   (814) 275-2426 | | | | | | | | | | |      Intermediate School |   (814) 365-5141 |
| High School Health Room |   (814) 275-2424 | | | | | | | | | | | | |
The School Board usually meets at 7:30 PM in the High School Choir Room on the 1st Monday of each month with dates & times announced in the The Leader Vindicator. Nine School Board members are elected to 4-year staggered terms. There are 2 student representatives.Vacancies are filled by appointment until the next election at which time, the vacancy is filled by vote of the citizens.
For more information:
www.redbankvalley.net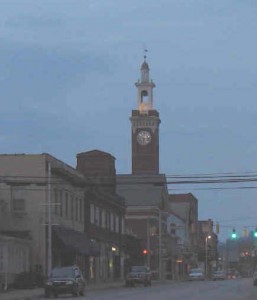 New Bethlehem residents are subject to a minimal 
personal tax
for Clarion County and New Bethlehem which is due by 6/30 of each year with discounts of 2% offered for payments between 3/1 and 4/30, face values between 5/1 and 6/30 and a 5% penalty if paid after 6/30. Property owners must also pay
real estate taxes
bases on assessed values to Clarion County and New Bethlehem which are due at the same time as the personal tax with the same discounts and penalties.
A school real estate tax based on assessed valuation and a minimal personal tax for the Redbank Valley School District based on occupation plus a per capita tax is due by 7/1 with a a 2% discount if paid by 8/31, face value between 9/1 and 10/31 and a 5% penalty if paid after 10/31. All taxes are paid to the local tax collector.
South Bethlehem residents pay taxes to the borough and Armstrong County – discount is 2% before 5/10 face amount 5/11  – 7/12 & with a 5% penalty after 7/13 for 2004. Dates may vary in other years. The per capita tax is County $5 & Borough $10. Last day to pay is 12/31 each year. Property owners must pay real estate taxes on the same dates as above.
A personal school tax for the Redbank Valley School District based on a per capita tax of $25 for the employed and $15 for the unemployed or retired and a real estate based on assessed valuation is due by July 1st. All taxes are to be paid to local tax collector.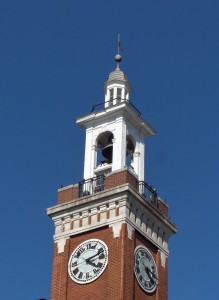 New Bethlehem is a borough on the southern border of Clarion County. Clarion County contains 34 municipalities including boroughs and townships. South Bethlehem is a borough in northern Armstrong County which has 45 municipalities.
A. Clarion County Commissioners
Three commissioners constitute the chief governing body of the county. The Commissioners' office is located on the 2nd floor of the County Administration Building at 330 Main Street, Room 206, (814) 266-4000, fax (814) 226-8069. Commissioners are vested with selective policy-making authority to provide certain local serices and facilites on a county-wide basis, including appointment of personnel and fiscal management. Commissioners are responsible for the adoption of county budgets, assessment of property, levying taxes and borrowing funds for construction of capital projects. (Information from Clarion County website at www.co.clarion.pa.us). They are elected for a 4-year term, terms of the 3 commissioners run simultaneously. In the primary election, 2 Democratic and 2 Republican candidates are nominated for 3 positions. The 3 candidates who receive the highest number of votes in the following general election in November are named commissioners, however, residents are only allowed to vote for 2. They take office the 1st Monday of the following January. A candidate must be a U.S. citizen, a resident for 1 year, at least 18 years old, must present a petition properly signed by 100 qualified residents and cannot hold certain other offices. Petition request forms can be obtained from the County Board of Elections.
A1. Armstrong County Commissioners
The Armstrong County Commissioners information is similar to most of the Clarion County information. The commissioners offices are located on the 2nd floor of the Courthouse Annex on Market St. in Kittanning and can be reached at (724) 548-3215. Further information may be found at thewww.armstrongcounty.com or by calling the Armstrong County Courthouse at (724) 543-2500.
B. New Bethlehem Borough Council
The New Bethlehem Borough Council is comprised of 7 residents elected by voters for 4-year staggered terms. A candidate must be a registered voter, a resident for 1 year and must submit an application and a petition signed by at least 10 citizens to Chief Clerk County Administrator, Commissioners' Office, 330 Main St. , Clarion PA 16214 @ (814) 226-4000. Please call for updated procedures and time deadlines. Write-in candidates must submit their names on a form to the County listing all the possible ways their names could be spelled by voters writing their names on election day for the votes to be properly counted. The council is assisted by an engineer and attorney who serves as Borough solicitor. The Borough Code contains the Borough's laws and regulations. A copy is available at the library. It is also governed by the Borough Code in Pennsylvania law which is found in Purdon's Statutes Annotated. A copy is available at the Clarion County Law Library in the Courthouse. Council members serve on at least 1 committee and may hold certain other elected or appointed offices and may work as an employee of the Borough. Committees include Police, Street, Solid Waste, Cemetery, Communications, Long Range Planning, Finance and Personnel. Council meets on the 3nd Tuesday at 7:30 PM at the Alltel Building at 212 Lafayette Street.
B1. South Bethlehem Borough Council
South Bethlehem Borough Council information generally mirrors the requirements for New Bethlehem. For further specific and current information, call the Armstrong County Courthouse at (724) 543-2500 and request candidate election information. Council committees include Police & Fire, Street & Sewer, Street Lighting, Building, Grounds & Zoning, Finance, Solid Waste. and Ordinances. South Bethlehem Borough Council meets on the 1st Tuesday of each month in the meeting rom of the Borough Building located at the terminues corner of Grant and Short Streets in South Bethlehem Borough.
C. Mayors
The mayor is elected by the residents for a 4-year term. The mayor has the right to veto decisions of the Borough Council.
D. Redbank Valley Municipal Authority
The RVMA is responsible for water and sewar and is composed of 5 members, appointed by their borough councils, who serve 5-year terms. They are assisted by an engineer and attorney.
E. The Redbank Valley Municipal Park
Formerly the American Legion Park, Alcola is a 33 acre site. The park is operated by a board comprised of representatives from each of the municipalities served and is funded though municipal action by the governing bodies of the communities involved. South Bethlehem participates but New Bethlehem has opted out. Recreational facilities include play equipment and a skating rink. It is also the site of the Clarion County Fair.
Click on links below to open or save to your computer: